An exciting game of strategy, coordination, and a desire to sink all the ships before the clock runs out! Are you ready for a game of Battle Ship that you've never experienced before? ClayStack Battle Ship is here! A game where you get to stake MATIC on mainnet to sink armored fleet and earn points!
The game is simple. You need to destroy four different types of ships. Two of them span across and the remaining two span down. Note that these ships' orientation is fixed and they will not rotate.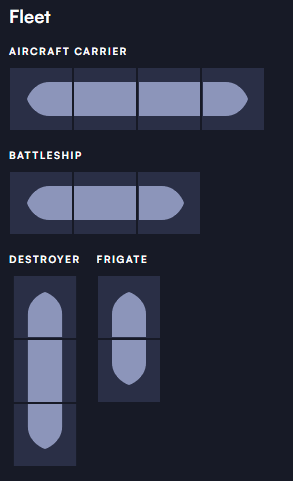 Out of the 10 different maps where these ships have been placed, you will be assigned a random map. To identify the cells where the fleet stands, you must stake the number of the cell in the ClayStack webapp. For instance, you want to attack cell 15. To do that, you will have to stake 15 MATIC on mainnet (either on Ethereum or Polygon).
You earn points for every ship that you sink. There are a total of 4 ships that you have to sink. The maximum number of points that you can get from playing the game is 1500 points. Here's the points breakdown.
If you sink any 1 ship, you get 500 points
If you sink any 2 ships, you get 750 points
If you sink any 3 ships, you get 1250 points
If you sink all 4 ships, you get 1500 points
In addition to this, you will also be eligible to earn Diamonds since you are staking on mainnet. You will also get to retain your streak by sinking ships (but remember to sink at-least one ship to retain that streak!). To understand how many Diamonds you will earn, refer to this blog.
Once you have attacked a particular cell, then you'll only come to know about whether you've hit or missed after 24 hours. Be sure to check every 24 hours which cells you were able to attack and which ones you missed. In the meantime, you can even ask in the community who has a similar map to know which cells to attack next.
Remember that to sink the entire ship, you will have to attack all cells where the ship stands. So if it's an Aircraft Carrier, then you will have to attack 4 cells across to sink it.
This game will last for 7 days. Remember, however, that if you unstake before the game has ended then you won't be eligible to get any points!
The best strategy to sink all 4 ships would be to ask around in the community to check if someone has the same map. The more you play, the higher your chances of finding others with similar maps  - coordinate with them and destroy all ships!
FAQs
How many Diamonds will I get by playing this game?
You will get as many Diamonds as proportional to the amount of MATIC that you stake in the network.
How soon can I check if I was able to hit or miss on a cell?
You can check every 24 hours. The timer resets at 8 AM UTC every day.
Do I get points for hitting a target?
You only get points when you have sunk the entire ship. So make sure to attack multiple cells to sink the ships!
Do I need to deposit new MATIC to play the game?
Yes, the game will run for 7 days and during this period you will have to deposit new MATIC to hit a cell. Your previously staked MATIC will not count for this game.
How long will this game last?
The game will last for 7 days.
What happens if I unstake before the game? Can I get disqualified?
If you unstake before the game ends then you will be disqualified and won't be eligible to win any points.
Will I get to keep my streak if I sink ships?
Yes, since you are staking on mainnet you will be able to retain your streak when you sink ships. But this will only happen when you sink at-least one ship! Also, the streak for participating in this game will be added for the week of 27 June - 3rd July.  
Ready? Start playing now!